Plotter Robotron REISS SM6415 (K6418). Category Vintage Mainframe Parts. Detailed description and photos.
Plotter robotron reiss sm6415 k6418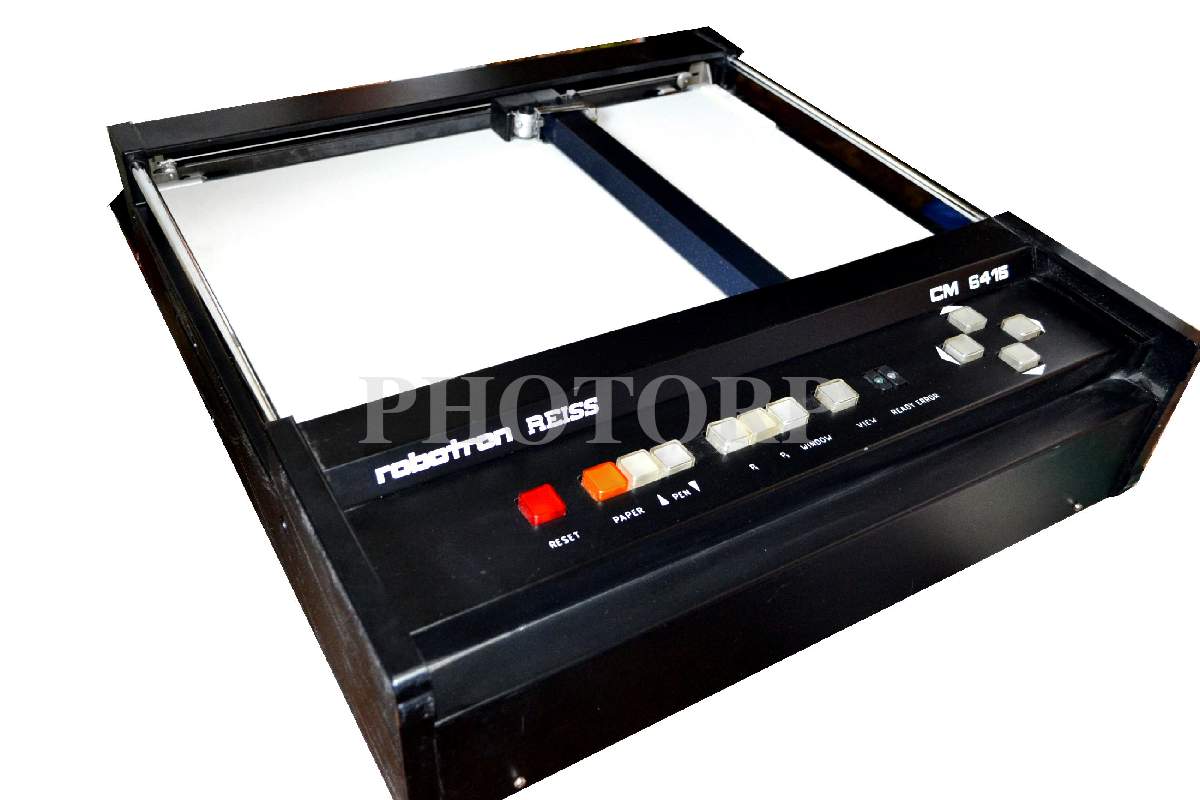 Robotron SM6415 is a graphical peripheral device for connecting to Mainframes. The maximum format is A3 which can be reduced. The paper is attached by electrostatic method. As pens for drawing special markers are used. Robotron was manufactured in Germany (former GDR) and supplied to the Soviet Union as a plotter for Soviet computers. It has an RS-232 connector and can be used as a visual aid even for modern personal computers. The Robotron worked how plotter for Soviet computers of a series of Minsk and ES. In the last two photos of our photo album you can see the computers of the series ES-1035 and ES-1052 where these and similar plotters were used in real work and research in the Soviet Union in 1970-1990. The device contains precious metals silver, gold and platinum which are on the circuit boards in the form of parts.
Technical parameters:
paper size: A3, 420x297 mm
drawing area: 370х270 mm
paper attachment: electrostatic
resolution: 0.1 mm
plotter speed: 24 cm/sec or 12 cm/sec
accuracy: 0.2% (less than 0.2 mm)
Input buffer: 512 bytes
drawing element: marker
command language: HP-GL
interfaces: V. 24 (RS-232) and IFSS (current loop)
Device dimensions: 510 mm x 520mm x 140mm
Weight: 16 kg
Voltage: 220V
Current frequency: 50 Hz
Power consumption: 110 watts
operating temperature: +5 ... +40 Sec
humidity: 40 ... 90 (if the temperature is + 30 C)
Air pressure: 84 ... 107 KPa
protection class: 1
Online manual for Robotron SM6415
A complete list of parameters and commands contained in the documentation for Plotter Robotron.
Date of publication: 02 Oct 2018
Full Collection Photos for "Plotter Robotron REISS SM6415 (K6418)"
This album contains all the photos that we did for "Plotter Robotron REISS SM6415 (K6418)" in category "Vintage Mainframe Parts". All photos are original and if you like any of them you can contact us and we can offer you completely original photos without a watermark and good quality for a small fee.