Vintage ferrite memory module from Soviet Mainframe 1970s. Category Vintage Mainframe Parts. Detailed description and photos.
Vintage ferrite memory module from soviet mainframe 1970s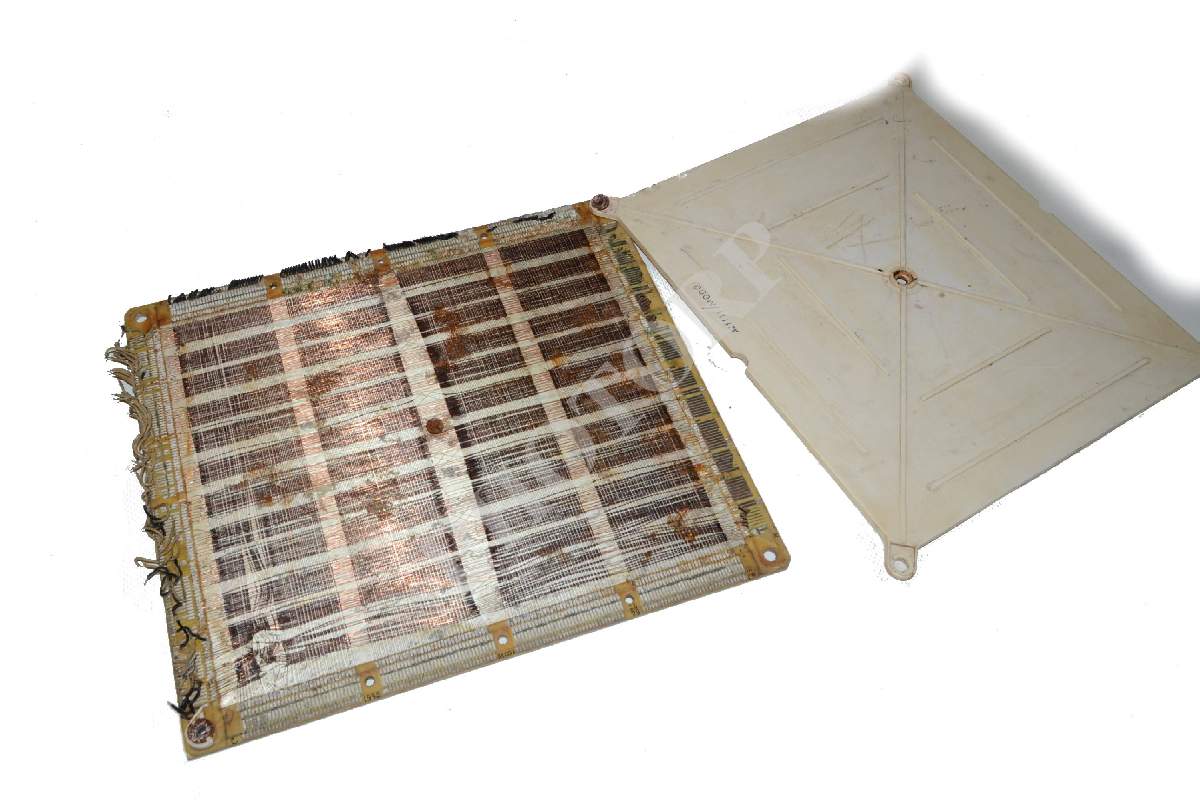 Vintage Ferrite Core Memory Module 24-bytes from Soviet Mainframe Minsk-22 1960s Past Era. Rare USSR Computer device
Brand: USSR
Manufacturer: made in USSR
Parameters: core memory, size memory approximately 25344 bit
Size: approximately 27 x 24 cm or 10.63 x 9.45 inches
Material: plastic + metal
Application: module memory for USSR mainframe MINSK-22
It is rare module from Soviet mainframe MINSK-22, similar modules also could been used in other models of Soviet computers. Each bit in memory has its own ferrite ring or core. These cores can be magnetized in one or two directions, which corresponds to bit 0 or 1. We calculated total sizes of the device and approximately got size of the memory is 25344 bit information it is about 24 bytes information. it seems fantastic but this memory will fit only a few words of 24 letters for example "photoelectroluminescence" or "Petropavlovsk-Kamchatskiy". The device has signs of wear from time, see the photo for more details.
Historical information
Magnetic core memory (ferrite memory) it consists of tiny metal rings through which wires pass, which could be magnetized in any direction, giving a logical value of 0 or 1. Memory on magnetic cores had many important advantages, not the least of which was that it did not require current to store the contents (an advantage over modern memory) addition, it provided true random access, in which access to any part of the memory was equally fast. Magnetic core memory was significantly faster than other previously used memory technologies, since the access time was 12 microseconds. Currently, magnetic core memory is used in narrow sectors of the space or rocket industry where increased reliability of data storage is required.
We added several historical photos and you can see how were manufactured similar ferrite memory modules on factory USSR.
Date of publication: 07 Oct 2020
Full Collection Photos for "Vintage ferrite memory module from Soviet Mainframe 1970s"
This album contains all the photos that we did for "Vintage ferrite memory module from Soviet Mainframe 1970s" in category "Vintage Mainframe Parts". All photos are original and if you like any of them you can contact us and we can offer you completely original photos without a watermark and good quality for a small fee.