DDS-30 / ДДС-30 Spectral Deuterium 186 - 360nm Tube Soviet Russian USSR 1985. Category Vintage Tubes. Detailed description and photos.
Dds 30 dds 30 spectral deuterium 186 360nm tube soviet russian ussr 1985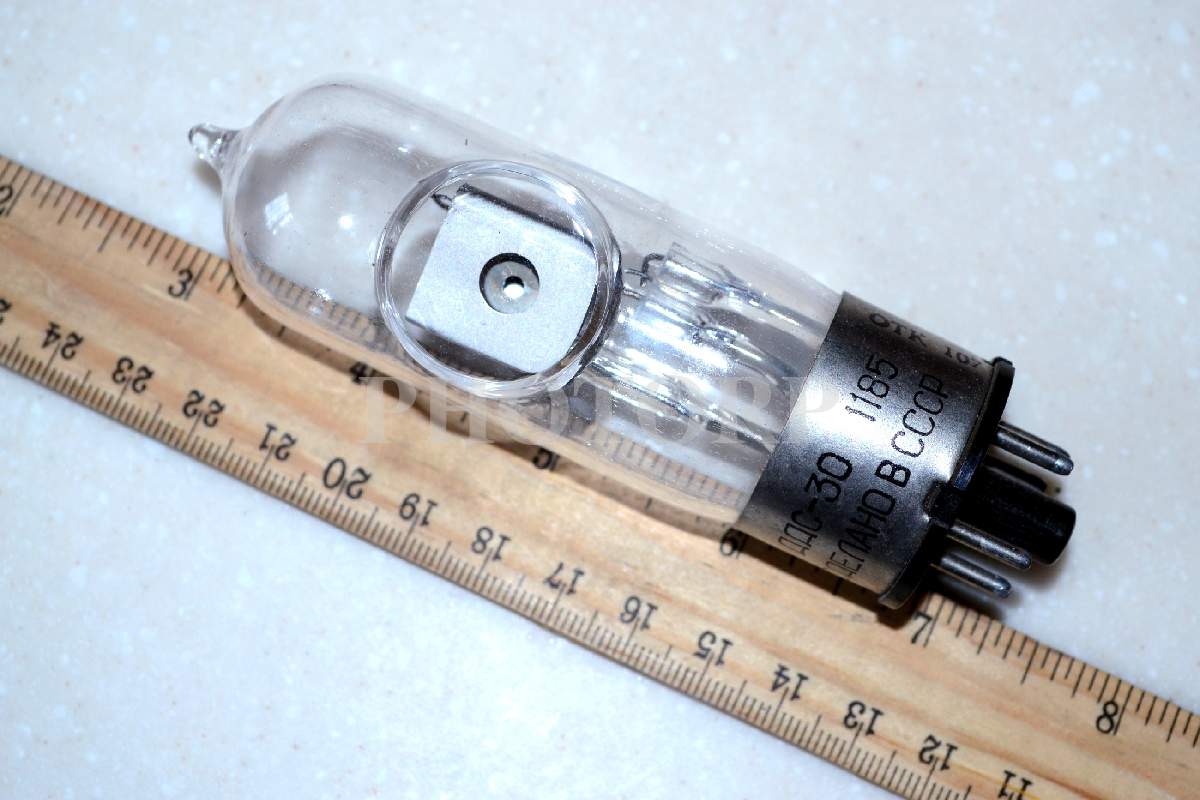 Brief description Tube DDS-30 / ДДС-30 obsolete name LD2D / ЛД2Д
All the tubes are manufactured in the Soviet Union and can have a quality mark and other factory marking on the case. You can look all details at the original photos.
Lamp deuterium spectral arc D2(D) (legacy name DDS 30) is used as a source of continuous ultraviolet (UV) radiation in the wavelengths 186-360 nm in different spectral machines and devices for industrial purposes: the spectrophotometer SF-46, SF-56 and SF-256, monochromators, special lights and appliances for testing the above equipment.
Lamp deuterium 30 DDS (D2, D) is a cylindrical flask with side window made of optical quartz and has actally base. Connection diagram (Pinout): 3 — cathode screen; 5 — cathode; 7 — anode (the remaining unoccupied is prohibited to use as reference points for installation). Please see attached photos.
Before ignition it is recommended to wipe the window of the tube with cotton, moistened with medical alcohol, to clean the window surface from contamination. When working with the included deuterium lamp DDS 30 (D2 D) should be wearing safety goggles for protection of eyes from UV rays.
Parameters and characteristics of the spectral arc deuterium tube DDS 30 obsolete names: ЛД2Д, D2 D, D2(D)
| Name | Value |
| --- | --- |
| The wavelength of radiation (nm) | 186-360 |
| Square spot (mm2) | 3,75 |
| The intensity of the light energy in the spectral range 215-300 nm, not less (mW/SR) | 1,8 |
| The voltage of the power supply, not less (In) | 300 |
| The burning voltage of the lamp (In) | 50-100 |
| Current lamp (A) | 0,3 |
| Overall length max (mm) | 124 |
| Overall width not more than (mm) | 39 |
| The height of the light centre (mm) | 60±2 |
| Warm-up time (min) | 1-20 |
| The development of new lamp (h) | 750 |
| Weight approximately (kg) | 0,05 |
| Release year | 1970-1990s |
Date of publication: 05 Jun 2018
Full Collection Photos for "DDS-30 / ДДС-30 Spectral Deuterium 186 - 360nm Tube Soviet Russian USSR 1985"
This album contains all the photos that we did for "DDS-30 / ДДС-30 Spectral Deuterium 186 - 360nm Tube Soviet Russian USSR 1985" in category "Vintage Tubes". All photos are original and if you like any of them you can contact us and we can offer you completely original photos without a watermark and good quality for a small fee.